The Permachar Kitchen Garden (PKG) trial aims to establish what is the best growing medium for 12 of the most popular culinary and medicinal herbs in the Mediterranean climate. I have used HDPE barrels cut in half lengthwise. I have used biochar 'aquifers' up the level of a drain in the base of the barrels. Irrigation is standardised.  I have used a control trial of loam/compost/gypsum and created four additional trials with different 'Permafert' recipes:
The trials
1-loam/compost/gypsum
2-loam/compost/gypsum/biochar/blood and bone
3-loam/compost/gypsum/biochar/blood and bone/liquid kelp
4-loam/compost/gypsum/biochar/blood and bone/liquid kelp/worm oils
5-loam/compost/gypsum/biochar/blood and bone/liquid kelp/worm oils/Mycorrhizal fungi spores
Irrigation
I have built irrigation using standard 19mm polypipe for the main conduits and Netafim miniscape (non-pressure regulated) for the interconnectors lengthwise along the rows. I have added an 'unpowered Measured Irrigation controller' to the system which can match irrigation amount to rainfall and evaporation (very cool). I've tested the controller and it works like a treat! I've added hose clamps to the tap and controller so hopefully no  blow outs. I've tested that the float opens and closes the magnetic valve  - all good!
The plants
| | | |
| --- | --- | --- |
| Name | Latin name | Number |
| Mediterranean plant guild |   |   |
| A |   |   |
| Rosemary | Rosmarinus officinalis | 30 |
| Oregano - Greek | Origanum spp. | 30 |
| Parsley – flat/Italian | Petroselinum crispum | 15 |
| Parsley – Curly | Petroselinum crispum | 15 |
| Dill | Anethum graveolens | 30 |
| Sage – common | Salvia officinalis | 15 |
| Sage – bergartton | Salvia officinalis | 15 |
| Thyme – Turkey/Westmoreland | Thymus serpyllum 'Westmoreland' | 15 |
| Thyme - Lemon | Thymus vulgaris | 15 |
| Asian and misc |   |   |
| B |   |   |
| Basil – sweet | Osimum basilicum | 30 |
| Chilli – halepeno | Capsicum annuum | 15 |
| Chilli – caysan | Capsicum annuum | 15 |
| Coriander | Coriander sativum | 30 |
| Mint | Lamiaceae | 30 |
| Chives - Plain | Allium schoenoprasum | 15 |
| Lemon balm | Melissa officinalus | 15 |
| In bw rows: |   |   |
| Flowers – nasturtium, violas etc |   | ? |
Measurements
Brix/taste/height/width
Samples of biochar, control and Permafert mixes will be sent to the Environmental Analysis Laboratory (EAL) at Southern Cross University (SCU) before and after the trial (12 months later).
Summary
I can make a plant/Permafert matrix after 1 year that explains which plants preferred which control/Permafert mix. I can then begin commercial herb production for the most popular culinary/medicinal herbs in the Barossa Valley restaurants OR if a restaurant then wants to install its own PKG, I can do that based on what I have learned from this experiment.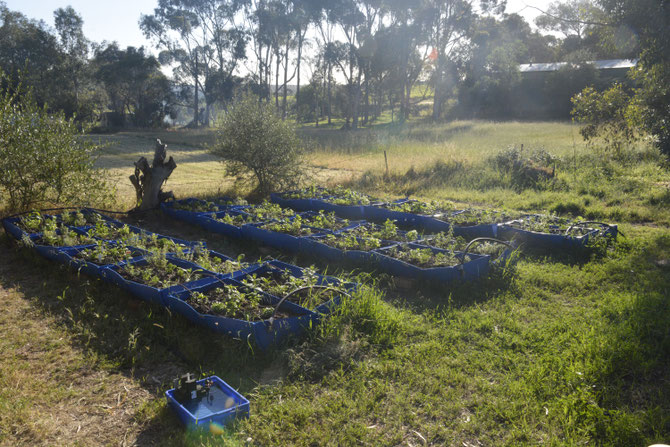 After lengthy consideration, I decided to mulch the beds. It's old straw lucerne but was kept undercover for a year. It should still provide slow release Nitrogen, as well as providing thermal insulation and reduce evaporation. I kept a gap under the dripline so the lucerne would not impede the water reaching the soil. The weather is warming up and drying up - I think the mulching will help the plants survive during the hot and likely dry period over the Summer. Note that a watering can, litre sized container and cup are useful for checking the irrigation valve is opening and closing properly from time to time. So far, the mint, coriander, flat parsley, dill and lemon balm seem to be loving the growing conditions across most of the trials. The chillis, rosemary, sages and thymes are slow starters. The chives, curly parsley and oregano are growing at an average speed compared to the others. It's going to be difficult to tell which Permafert mix is most successful for a given plant since there are small variations in the irrigation water volume along the irrigation lines. I'm hoping that there will be some plants that are statistically growing extremely well in a particular Permafert/control mix.
This can be purchased after joining up as a member with the 'Bionutrient Food Association' based in the US, found at "bionutrient.org". My learning issue is: Can the spectrometer be used for both plant nutrition measurement and Carbon content measurement in biochar (and soils)?
The kit will be available at the beginning of December 2018. There will be trials for a year and the first edition will be released in December 2019.  If the spectrometer works effectively, this could be a serious game changer for agricultural and horticultural practitioners in terms of growing healthy nutritious food (and possibly generating Carbon credits/NORI tokens for integrating biochar into soils and aquifers - alternatively, a reflectometer sourced from 'quickcarbon.org' could do the trick). I'm also particularly interested in it's portability, cost and multi functionality.
-Pesto and fettucine-
coriander, mint, basil, dill - enough leaves to fill a blender 2/3 full - washed and coarsely chopped
broken macadamia nuts- lightly toasted on a frying pan (no oil needed). Use cashews if unavailable.
garlic cloves x4
juice of one lemon (+ rind if exxy)
olive oil 100ml
Ozzie parmesan, grated 80g
table salt 1/2 tsp
cracked pepper made from whole black peppercorns and ground in a mortar and pestle, 2 tsp
cayenne pepper 1/2 tsp
cumin powder/seeds 1 tsp
*Place ingredients in blender and blend all together!
If you've got a hand-powered pasta machine (try an op shop) then you can make pasta...
350g Italian '00' flour eg. Farina, plus extra for dusting
3 whole eggs
1 tbsp of olive oil
table salt 1/2 tsp
*mix in a blender until it forms a ball then remove
*dust bench/chopping board then knead a little then flatten out with a rolling pin/hands and cut into quarters
*set up pasta machine and start with the widest setting on the machine roller and roll 1/4 of the pasta dough
*keep reducing the width until the desired thickness has been achieved eg. number 4
*process through noodle attachment for fettuccine (or linguini), hang on a broomstick
*repeat for other 3 pieces of pasta dough
...
add pasta noodle to boiling water and add a dash of olive oil and pinch of salt
cook until 'al dente' usually indicated by pasta floating to the top of the saucepan
drain the pasta through a colander and remove excess water
add pasta to a large pan, add a generous amount of pesto, toss it for a minute
add to a pasta bowl
garnish with more parmesan and a few basil leaves
get twirling and enjoy!
If you think about it, you could be well on the way to sustainability if you could locally or bioregionally source all the ingredients, tools and infrastructure required to produce pesto and pasta if you are living in a Mediterranean climate zone. You could go even further and make a list of your 'Top five' 'keystone recipes' (as opposed to 'keystone species' which has been the strategy of WWF for many years) and work on building and planting the required ingredients that will grow in your climate and microclimates. Permaculture principles can help you achieve this as can using Traditional knowledge eg. Indigenous, Italian, Greek and Spanish Australians. If you are setting up a new kitchen, then the basic tools would be a blender eg. Magimix (and add solar power with storage to charge other devices), a hand-powered pasta machine (available in many op shops), a stove top or 2 TLUD stoves (could grow the biomass), a large pot and pan, a manual lemon juicer, a measuring cup, a decent chopping knife, rolling pin and pasta dish, cutlery. I've been over the PKG - materials/methods have been covered.  Now for the extras:
-herbs - grown in the PKG
-garlic - grown in the PKG
-a Meyer lemon tree or two for lemons
-broken macadamia nuts - Australian, could be replaced with almonds, pine nuts (exxy) or even pistachios Cashews will probably be imported...hard to find Australian cashews
-olive oil - grow some olive trees - process with an unpowered cold press. Many producers in SA.
-chickens for eggs (and possibly chicken pesto pasta if they stop laying eggs)
-'00' flour (finely ground) might be obtained within your bioregion or at least nationally - can be substituted with plain flour but not as easily rolled into thin noodles compared with '00' flour
-Ozzie parmesan - eg. Gippsland Cheese, Australia
-salt - Lake Deborah Australian lake salt (WA)
-pepper - ?grown in the subtropics in Northern NSW (or imported from Indonesia, Cambodia et al)
1. Pesto and pasta
2. Thai green curry
3. Combination fried rice
4. Tabouleh
5. Beef 'pho'
.....
1. discussed above
2. kaffir lime, green beans, Thai basil, coriander. For the green curry paste: chillies, coriander roots and stems, galangal, purple eschalots, garlic clove, lemongrass, lime rind
https://www.taste.com.au/recipes/chicken-green-curry/c9382a76-95fe-495a-a4fe-a980739327ce
3. coriander, basil, mint, dill, eggs, carrot, capsicum
4.mint, flat Italian parsley, curley parsely, lemon juice, burghal, onion, tomato, garlic, all spice
5. ginger, onion, garlic clove, chilies, bean sprouts, coriander, mint, basil, spring onions
https://www.delicious.com.au/recipes/vietnamese-beef-pho/765f5123-9ddf-45d7-87ab-e8281f296348
Many other ingredients in these recipes could be grown in Australia but probably easier and possibly more efficient to import them eg.rice, some spices. Some of them simply won't grow successfully in a Mediterranean climate!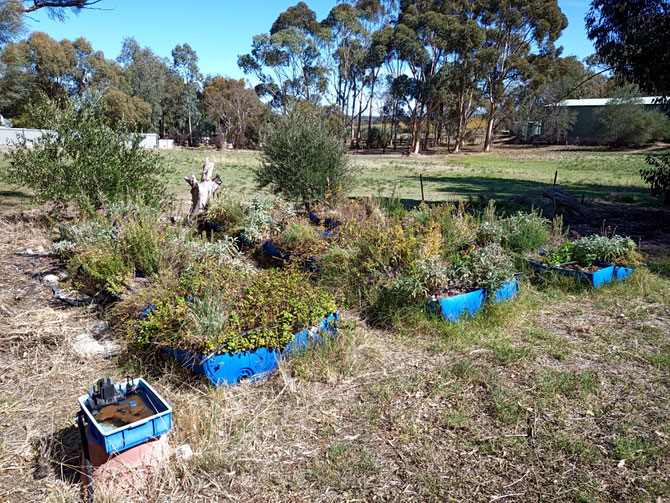 -So here we are 18 months later (9/4/2020). All the annuals have been and gone. The perennials are surviving.
-I collected seed for coriander, dill, oregano and chilli. Mint was clearly the best survivor - not recommended to plant in a system like this - better to plant it by itself in pots. The other survivors were plain chives, sage (common and bergartton), thyme (lemon and turkey), oregano (Greek), rosemary and a little lemon balm.
-Virutally no pests were encountered in the PKG, possibly due to the distributed plantings of each species across all the cells and due to the biochar within the Permafert combinations which increased the rootball mass creating a healthier plant and has been documented to reduce disease - I didn't need to use any organic pest control in the entire 18 months.
-There were hardly any weeds due to the close plantings
-The UMIC is now proven to be a workhorse with no glitches - just needed to clear out slime every few months. I checked the irrigation every 3 months to make sure everything was working and it was - perfectly. I initially had some pressure issues on the tap but eventually I found the 'sweet spot' (which occasionally varied due to local water pressure changes). We had some very hot days over Summer well into the 40s but the plants survived - there was more evaporation in the UMIC reservoir during these days which triggered more regular irrigation events.
-It was too difficult to check which combinations worked better as growth seemed to be faster initially in the biochar cells but after 6 months there wasn't a lot of difference in growth between the cells.
-It is assumed the biochar aquifers with drains worked as there were no overly saturated soils and moisture level seemed to be reasonably consistent over the 18 months, especially along the tek lines.
-The taste of the herbs is great - clean, earthy and free of any chemical taste.
So overall a great success due to innovative design integration of key survival technologies and suitable plants.